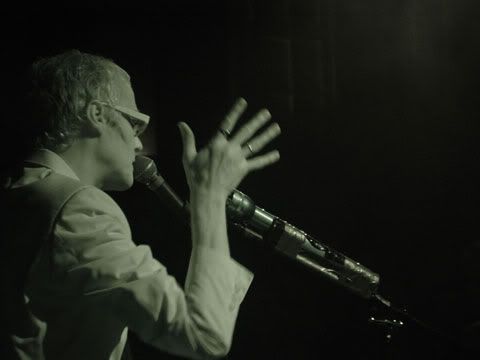 Once again, I squee.
From David J's
official website
:
New Live Dates

Tuesday, Jan 2, 2007
'Trannyshack'
@ The Stud
399 9th St.
San Francisco, CA
(This will be a special appearance featuring only one song)
www.trannyshack.com

Monday, Jan 15, 2007
The 3 Clubs
1123 Vine
Los Angeles, CA
(Featuring David J with Ego Plum, a special song writers preview of four new songs from the forthcoming 'Devil's Muse' CD / Music inspired by the life and mysterious death of Elizabeth Short as featured in the motion picture 'Black Dahlia Movie'.)
From
Trannyshack
:
1/02/07-Don't miss the official Peaches Christ Birthday Celebration as Trannyshack proudly presents "Black Celebration". Heklina is leaving town just in time for Peaches to throw herself a big old-fashioned gothic birthday party. Shroud yourself in dark fabrics, paint your face white, and rat-tease out your favorite black "hair" because it's going to be a night of death rock, bad poetry, and goth-stalgia. Celebrate the end of "holiday cheer" with Peaches as she presents a line-up of your favorite dark divas and ghoul-friends. No smiling please! Featuring a special appearance by David J. of Bauhaus!
Wow, I had blogged about David's
Black Dahlia Movie
work
one
or
two
times before, lamenting that it seemed I might never get to hear it, so y'all know I have been waiting for this. The music David composed is finally being performed live! A CD is forthcoming! Life is good!
Well, good except that the songs aren't being performed in San Francisco. I am, however, making the trek over to
The Stud
for Trannyshack and David's "one song." But he's coming all the way to San Francisco from SoCal for one song? It's got me wondering if we may see a DJ gig materialize too. Or maybe he's just got friends in the City he's spending New Year's with and this is a fun little side thingy. Either way, I've been starved, so yay! Should be fun -- maybe I'll even get to buy Mr. Haskins a drink and chat him up.
*edit 1.2.2006 -- looks like
things are becoming more clear
. And I have a feeling Vinsantos is "Fauxnique," or maybe it's just a coincidence there is a track on his album by that name.
Wonder if he's going to be decked out in drag himself?
If so, David,
this
is a definite no-no. But I appreciate your enthusiasm (and cheek) while playing for the kiddies at
Bat's Day
.
Regardless of what the above linked photo implies, David J is one of the few men who looks great in head to toe white.
*edit 1.2.2006 -- here is where I talk incessantly about what he should wear, and what he shouldn't blah blah blah. Oy, the time I waste thinking about this, and I don't even get paid to dress him! Nevermind.
Anyway, the more pressing issue is, what am I going to wear around all that transfabulosity? My bubblegum pink wool floor-length ballroom skirt is calling my name.
*edit 1.2.2006 -- Nope, wearing a black mini fashioned from a t-shirt, my new fantastic olive and teal heels, long sleeve grey tee, and my vintage cropped puffy sleeved cardigan. Channeling Deborah Harry. Sorry, done with the editing -- if you hear any more about this show it will be a new post, because it's happening in about 5 hours!