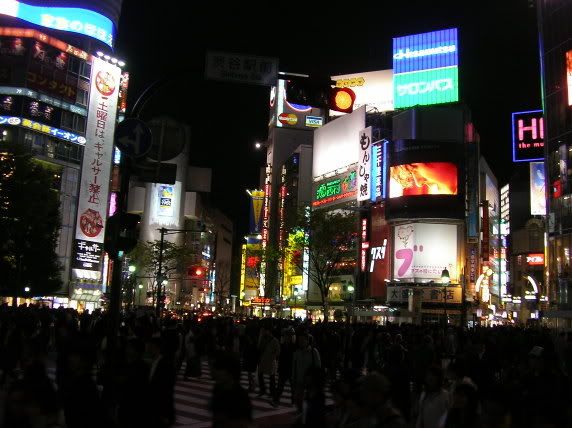 Wow, someone at the San Francisco Chronicle is finally
letting the cat out of the bag
about Japan and how inexpensively one can take in the number two most expensive city in the world.
This article is excellent. For years, Trevor and I have been telling our friends who dream of visiting Japan that it can be done on the cheap, and that it doesn't have to be painful. We try to go every few years, and will attempt every year starting next year, and let's face it, we aren't made of money. When we
last visited in April
, we spent, with off-season airfare, lodging in a nice business ryokan, a few nice meals out plus quite a few cheap ones, and trainfare to visit friends and muck around Tokyo, maybe $2000 for 10 days. The key, like anywhere, is food and lodging. Don't get me wrong, Japan is still the home of $5 cups of coffee and outrageous expense, but there are plenty of cheap alternatives.
Having a fridge and microwave in our room, we were able to buy and store food from the convenience store for breakfast and some other meals if we were around, and keep snacks handy (unlike American convenience stores, there are actually things you can eat in Japan's
conbini
). Eating out, if you take advantage of
kaiten
("circle," or conveyor belt) sushi shops, which serve some pretty damn fine sushi, you can get your fill of sushi for much less than $10. The ubiquitious noodle shop is also the way to go, with bowls of hot udon for less than $5. And the basement of every department store (Takeshimaya is a good one) houses a supermarket and food stalls, where you can actually free sample your way through lunch if you're really hurting, though the
onigiri
and other snacks are cheap and will fill you up nicely. Another tip -- eat at the mall food court. Donburi
setto
will run you $2 to $5 less than at a proper restaurant and is just as good.
Lodging is tough, but besides hostels and gaijin houses (the latter which, while cheap, usually requires a stay of over 2 weeks) Japan has what are called business hotels, which are cheaper than regular hotels and tend to have fridges and microwaves -- plus, you have access all the time, which a lot of hostels and such don't allow. While the one we stayed in didn't have a garden or onsen, it did have tatami floors and futon, as well as a nice big deep Japanese tub to soak in at the end of the day. And one free beer a day! We also stayed outside Tokyo proper, and had an hour trainride into the city, but it is cheaper that way and you get to see more of the countryside and little towns, which is what we love.
What I love about this article too is the use of volunteer guides. I've never heard of that, and getting to know someone who is from Japan is the best way to see Japan. My only gripe -- the author wanted to see Kichijoji, and it sounds like he didn't go. GO. On the Chuo train line, it is one of my favorite towns in Tokyo, with a gorgeous park and shrine and very cool shopping. While you're at it take the train a few stops further and go to the university town Kunitachi, where Trevor and I lived for three months. Both towns melt away the hustle and bustle of Tokyo, and both are beautiful and fun.
Also, a few stops from Kunitachi is the end of the Chuo line, be sure to go to Takao. Forget spending the money to get to Fuji -- Takao has Mount Takao, and a hike up to the top and back will take you all afternoon and is thought of as the precursor for a Fuji run. Hike through the incredible flora, and enjoy the quiet. We went on a weekend, and even so we met very few folks on the trail, but everyone was so friendly. There is a creek, and you can stop every now and then along the trail by the creek to peer into tiny ancient shrines along the way. Reaching the deserted summit, enjoying the gorgeous view, and walking the pristine grounds of the temple there beats the tourist trap of Fuji anyday.
I love visiting Japan. Can't wait to visit again next year. All I have left to say now is GO!