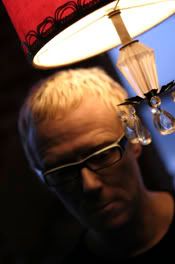 Oh, come on, you know you like it.
So, it looks like
David J
is still slated to make an appearance in Ramzi Abed's Black Dahlia film, scheduled for release sometime in my lifetime.
I had blogged about this before, when someone purporting to be Ramzi Abed posted on David's message board and said David was no longer involved in the project because he was afraid it might be damaging to his career. But if that was truly the case, it looks like everything has been smoothed over, because David is now
listed
as a "consulting producer" (what is that exactly?) and as having a role in the film (as "David").
In addition to these J bits, the theme song for the film is also written by David (and sung by Nora Keyes) and is quite good. It has some of those classic David J elements -- quirky, wistful, old world instrumentation, dark and clever lyrics, ominous synthesizer then *BANG*
You can hear it on Abed's
Black Dahlia website
-- just click on "media" and then "soundtrack sample." There may be other songs by David on the soundtrack -- Abed used
Thievery Corporation
's remix of David's song "The Auteur" for one of his previous trailers, and David won an
award
from the Los Angeles Horror Film Festival for the soundtrack, but who knows what will make the final cut.
I am super excited about the soundtrack, but I just don't know about the film -- it still looks poorly acted and sort of like a bad blue movie to me. Only judging from trailers though, so who knows. I can definitely respect the hard work and love Abed and his crew have put into it, only to have a
bigger studio, higher budget Black Dahlia
film yank the limelight away, but ehhhhhhhhh. I suppose it almost can't do any worse than Da Palma's in terms of
reviews
though.
I read an interesting book recently about
Elizabeth Short
's murder and the possible suspects,
Exquisite Corpse -- Surrealism and the Black Dahlia Murder
. The book's main theme is suspect George Hodel's close relationship with surrealist artist
Man Ray
, and it tries to make a connection between Elizabeth Short's murder and surrealist art. It posits that the murder may have been a deranged attempt at the ultimate surrealist act, "to one-up the leading surrealist artists of the day."
The book has pics of the murder scene and juxtaposes it with pre and post Black Dahlia murder work by Man Ray, Dali, etc., and includes visual and narrative portraits of the physical and social environs back then and its players -- Vincent Price, Henry Miller, Orson Welles.
The pics of her body are so awful that I will not post them, but they really do make for a striking study when compared with surrealist works, especially Man Ray. The authors make some really good points. I think this would make a fascinating film. I may not be the only one. Apparently New Line Cinema
bought rights to George Hodel's son's book
in which he also implicates his father, so we may see yet another Black Dahlia film in the chute soon.