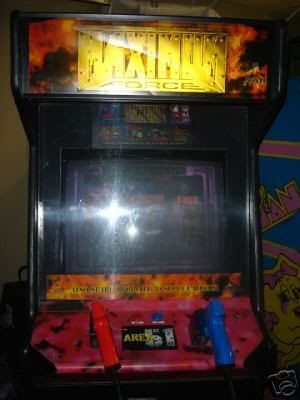 Oh my god. The skanky-ass laundromat two blocks from my apartment just put in
Maximum Force
/
Area 51
. I am overcome.
As luck would have it, the other night the resident
Ms. Pac-Man
-savant at my local Ethiopian joint,
Asmara
, had been casually enjoying a cocktail while wiping his 50th screen clean. We couldn't ask the master to relinquish his seat, nor would we dare sit across from him at the Ms. Pac-Man table. My girl suggested we hit the laundromat for stand-up arcade Pac-action. Grudgingly, I acquiesced. But then, we saw it! The holy grail of video games.
Our gasps of pleasure were so audible we attracted the attention of resident homeless man reading the paper, who assured me the game had been there for some time. As if -- I think I would have smelled the powerups from my second floor abode.
My goal now is to fill it with enough quarters so that it stays in my neighborhood forever, or I can afford to buy
my very own arcade version
. And I am not above getting twinked by some rich online benefactor with a soft spot for poor girls who love smoking aliens and terrorists. Just putting that out there.