Three things that fucking RULE:
1)
Jack Chick
tracts. I collect them. And I love the fake ones. This one is bordering on perfection: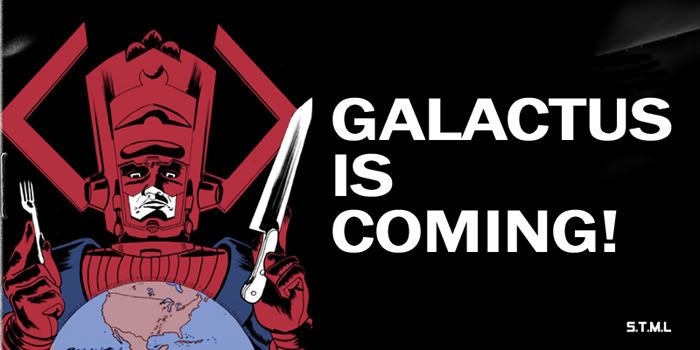 Galactus is Coming!
2) OMFG I love a trainwreck, especially when it goes by the name PETE BURNS:
Pete Burns: Unspun
Originally known for his global hit 'You Spin Me Round', 80s electro-pop icon Pete Burns is now more famous for his love of plastic surgery and brutal telling-it-like-it-is attitude. After his appearance on Celebrity Big Brother, his career was re-launched and primed for success. But within months of finishing the show, Burns would see his world unravel, finding him fighting bankruptcy, his boyfriend and the legal system. After several arrests for threatening and violent behaviour involving incidents with his then estranged boyfriend, he was jailed for two months for breaking bail conditions. This documentary follows Burns from his first day of release, when he is ordered by the courts to reside with an unknown obsessive fan responsible for bailing him out, to the gradual process of picking up the pieces of his shattered life.
3) Darwin. Still showing us
what's up
.
Just say no to drugs and violence. Especially violence perpetrated by alligators on your naked, cracksmoking ass.