How about that
Coachella lineup
, eh? Reformed Jesus and Mary Chain and Rage Against the Machine, Stephen Marley and Jr Gong, Interpol, DJ Shadow, The Decemberists, Gogol Bordello, The Rapture, Andrew Bird, Willie Nelson. Seen the Red Hot Chili Peppers before, and it's not so much a draw, though I have never seen co-headliner Bjork. Still shaking my fist at missing The Sugarcubes, PIL, and New Order on tour together when I was 15 and carless.
I know a lot of folks heading out into the desert for Coachella this year, but I just can't fathom spending all that money to fight the traffic, dust, heat, and teenagers to stand in a ginormous throng. I guess I'm finally old too, because even the siren's call of sex, drugs, and rock and roll just doesn't appeal when its 110, SoCal, and dirty. Isn't that sad?
But there are peeps I would do it for. If I'd been more of an internet presence in early 2005, I would've seen Bauhaus, like my friend Andrea who dragged her husband from the other side of the country to see the giants onstage. But then they toured, so yippee! Hoping the same for Jesus and Mary Chain. And we all know what a madhouse it would have been if things were different and Morrissey hadn't
turned down 5 mil
to reform The Smiths for Coachella. But, I think that's about it. Oh, I'd go for Love and Rockets too, but I have a feeling they'd tour if they got back together (hell, they're almost there anyway, just Bauhaus sans one diva), so I might take my chances there.
Haha, in other musical news, my friend whom I may be seeing NIN with in Japan sent me what she asserts will be my one way ticket to becoming a rock and roll bitch for Trent Reznor (current rock and roll bitch level -- tepid bordering on cool, though I loved NIN as a high school student and Trent seems like a stand-up fellow). She said it's one of his trademark things he does to the front row, and swears (facetiously...I
think
) that it was the best 1.65 seconds of her life. Yes, I'm talking about the most rock and roll thing in the world, mock ejaculation with a water bottle: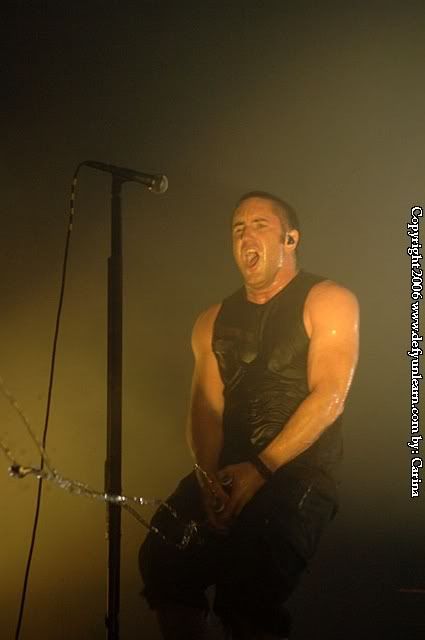 I find this so unappealing that I may just jump up on stage and attempt murder if he does that to me. But then again, never let it be said I'm not a gal up for adventure. And it might be really hot in that venue, in which case I suppose I can call him gentleman for relieving my discomfort.
*waits for comments about Trent's "stand-up fellow"*
Labels: Morrissey, music, Trent Reznor, wands