At the Halloween party I attended at
Mr. Stich
's house, I was flabbergasted when I learned that the household of pop culture that he lives in was populated by people who had not yet seen
The Juggernaut Bitch!
Shame.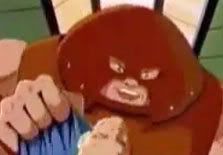 Oh Charles, he got in my heeeeead!
So here's where I brain dump, so I don't beat the shit out of you, Charles. Or beat the shit out of you with Charles!
***
I LOATHE politicians. I specifically loathe "family values" shitbags like Don Sherwood (R-PA) force-feeding us their hate disguised as protecting the sancitity of
Britney Spears' right to some innocent hetero Vegas fun
, and all the while he's
pulling this crap
. Looks like
supporting a constitutional amendment banning gay marriage
and voting to attempt to prevent gay couples from adopting just wasn't enough to protect his marriage from the Sodom and Gomorrah the gays have wrought. It must be those pesky
San Francisco Values
again. Those scheming gays are to blame, Don, we know.
I also LOATHE
this horseshit
. Yay, another hole in one for our ridiculously abysmal
infant mortality rate
. You should be proud, Charlie Norwood, R-GA. Denying healthcare to people who are not only citizens, but who will be here no matter what you do, because their parents are trying to make a better life for their KIDS, not only denies them a basic human right, but sets them up for failure, if not death. And if their parents are illegal and in low-wage or dangerous jobs that may expose them to sickness, pesticides, etc.? Who gets exposed to that as well, and then exposed to your kids in school? At the very least, think about the health of our country as a whole.
Oh, wait that's part of the plan, isn't it? Let's keep them sick or kill them off, and then we'll work on kicking the ones who live out of school, and keeping them uneducated, at a later date. The natural progression.
Gag. How do these people look at themselves in the mirror?
***
This rules! From
Diesel, A Bookstore
:
Female writers have always been in the vanguard of the graffiti movement, though often shunted to the sidelines by their male counterparts. This exhaustive volume places them front and center, featuring 1,000 full-color illustrations from some of the world's most prominent artists, including Brazil's Nina, Japan's Sasu, Mexico's Peste, and the Americans Lady Pink, Swoon, and Miss 17. Two eight-page fold-out collages, a fold-out poster jacket, and an authoritative text round out the impressive package. The first and only comprehensive survey of its kind.
The creations chronicled in this book range from simple to simply divine. Amazing skill and feminist positivity abound. Check it out!
***
Eric Forman
as
Venom
in Spiderman 3. WTF? Where the hell have I been?
Apparently the pics of Venom are under wraps, unless you're into
this
or
this
. Oooh, but the new Spidey graphic on the
website
makes me giddy. And I'm not a Tobey fan, but
me likey
.
***
NP: Rosegarden Funeral of Sores,
John Cale
I just bought the
7" single
of John Cale's "Rosegarden Funeral of Sores" today. Or rather, "Mercenaries (Ready for War)" and the B-side is Rosegarden. I'd never before heard the original, just the Bauhaus version. I have to say, wow!
I like both versions for different reasons. Cale's is magnetically subtle musically (except for that insistent bassline that is the sex), but also growling and dangerous. I can see why Bauhaus was drawn to cover it -- it's a wide expanse of different possibilities.
Bauhaus' is more epic and glam throughout, and has white hot heat. Daniel Ash's guitarwork is phenomenal, like a saw buzzing through your head. And while frequent sine qua non subject David J kept the bass straight up Cale for Bauhaus' version, I definitely like the consistent slide he's added to the live Bauhaus incarnations of their version as of late. Hot.
***
That's all I got. Whew!