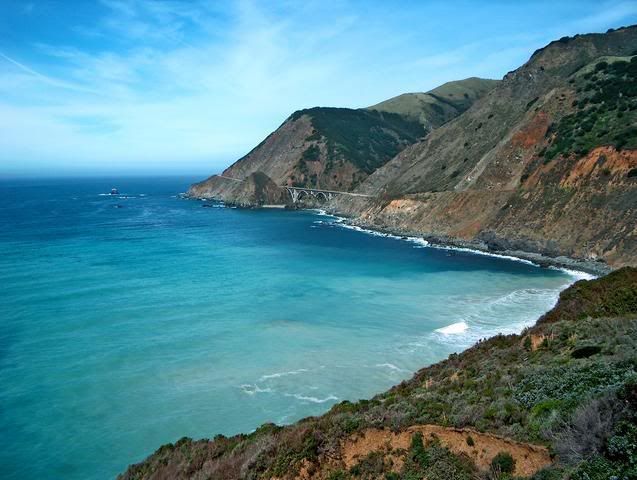 Just got in from camping in
Big Sur
this weekend with Trevor, and a bunch of friends we just recently met. We stayed in
Julia Pfeiffer Burns State Park
and car-camped. It was grand.
We hiked the redwoods, played beach
bocce
(my first time!), fed cute beach rats hunks of cheese, drank copious amounts of
delicious beverages
, and staged marshmallow fights. Aforementioned-in-a-previous-post-fantastic-new-neighbor-friend Richard cooked up a mighty dinner of pasta alfredo with abalone a fellow camper had acquired diving.
S'more
-making occurred in abundance. Fell asleep, belly full and tuckered out, under a starry sky, snug as a bug, and awoke to the calls of crows and the smell of (someone else's) breakfast cooking. Packed up and drove to
Monterey Bay Aquarium
(hadn't been since I was in elementary school) to oooh and aaah over the jellyfish and recently acquired juvenile great white shark. Ooooooooh. Ahhhhhhh. Yesssssss. Only thing better would've been the ten mile hike to the hot springs. Next time.
Gorgeous weather too -- t-shirt and clamdiggers sufficed under a bright blue sky. 78 degrees in October. Fall colors. Warm sunshine all day, then fog. Redwoods, mountains, beach -- within minutes of each other.
As a native NorCali gal, I just gots to say: I love California. Love it love it love it. Where else can you ski, surf, run a trail, mountainbike, sunbathe, walk in the fog, rockclimb, whalewatch, and almost anything else to your heart's content, in any season, just by driving a few hours in any direction?
Yes, it is still expensive. Yes, NorCali is still full of rednecks and self-centered faux eco-liberal yuppies. And yes,
Los Angeles
is still here. But California is still also one of the most beautiful and varied and diverse places on Earth, and just when I was getting jaded and cranky-pants I find out it's still got some genuine people here who love life. Now, about that expensive bit -- I can just rent a studio apartment forever, right?
When Trevor and I were living in Japan for a very short time, before deciding it just wasn't for us, we listened to Joni Mitchell's "California" a lot. There's just something about this place.
Sitting in a park in Paris, France
Reading the news and it sure looks bad
They won't give peace a chance
That was just a dream some of us had
Still a lot of lands to see
But I wouldn't want to stay here
It's too old and cold and settled in its ways here
Oh, but California
California
I'm coming home
I'm gonna see the folks I dig
I'll even kiss a sunset pig
California, I'm coming home
Though, WTF is a sunset pig? Haha, actually, nevermind,
Google is my friend
.
By the way, I'm all out on scary for this post. I can't think of a damn thing to post for Halloween month scary bits. I'm exhausted from the weekend, and I've got an online training session tomorrow for work to look forward to. Isn't that scary enough? Night night.