Wheeeee!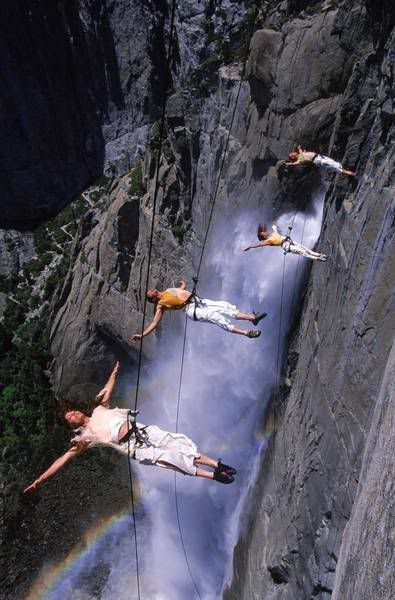 Project Bandaloop
is a dance company (out of Oakland, who knew?) that works to combine "dance, sport, ritual, and environmental awareness." My friend just auditioned for a training and was accepted! She said when she auditioned they had her harnessed and she was working off trampolines that were affixed to the wall. Wow. She will be learning how to do aerial dance, and possibly have a chance to join their troupe!
This looks like an amazing opportunity to not only learn something unique and beautiful, but physically and mentally challenging as well, and fuse so many intense passions into one. I am so excited for her! Check out this
highlights vid
of their work. It is breathtaking.
I just have to say, I could never do this. Rather than being sad that I am such a wuss and scaredy-cat, on the contrary, these are the times that I am so happy that there are people out there who like this sort of thing, so that the scaredy-cats like me can just appreciate their fabulosity and cheer them on. I will just continue to do less scary things like pretend to play bass and pretend to be an art critic and go to poetry readings and ski (carefully) and learn to be a trained killer (in the safety of a dojo, of course). I'm satisfied with my level of death-defying, which is close to none.
Aha, but I may have spoken too soon. This is something out of character death-defying for me that I may be forced to consider:
I want this dress.
Want -- yes, that bane of human existence. Nevermind that though, the important thing here is to let y'all know it is part of the new holiday collection by the Dutch designers
Viktor & Rolf
, for those purveyors of the cheap(ly made) and (nonetheless) chic, H&M, for release on November 9. And if past instances of hair-pulling and bitch-slapping over H&M's Karl Lagerfeld and Stella McCartney lines are any indication, there will be only one delivery, and it will be a death-defying act indeed for me to procure this dress.
BTW, yes, I am a label whore, but never at full price, honey -- and actually, preferably, at the same price as what it costs to buy a package of (non-designer) athletic socks. In fact, I think I am a label-whore more for the thrill of wearing an ensemble that may have originally been selling for more than
what my car is worth
, but that I bought for under $20 or summat. In this instance I am more interested in the designs than the name.
So, shall I fight my way through the hordes to possibly find a beautiful designer dress at a fraction of the designer's price? Equally possible outcome is a crappy, ill-fitting, poorly made shadow of it's V&R Winter 2006 version that awaits me, and therefore a grumpiness that will only be tamed by going in search of a Christian Dior vintage sweater at Fillmore Goodwill and snacking on a bag of hot roasted chestnuts from Japantown.
Ooh, in that case, I guess it may be a win-win.
But I still may not go. I hate crowds of rabid teenagers, and craziness, and impulse buying, and hipster slackers with a lot of money, and all of the former in one place at once. So, I guess the other important thing to for you to know is that I am a size 6 or 8 -- I'll take either. ;)