At long last! Here is my Japan fashion, shopping/trends, and wackness report -- smallish, but fresh!
1) Vinyl Vinyl Vinyl
First and foremost, *surprise!* I did some serious damage at the record shops.
I picked up too many records to list, but some of my prizes include: Public Enemy's
Fear of A Black Planet
, Portishead's
Dummy
(with postcard insert to join their fan club), Beastie Boys'
Check Your Head
, Gang of Four's
Entertainment
, Sun Ra's
The Heliocentric Worlds of Sun Ra
, Killing Joke's
What's This For...!
, a
4AD
copy of The Birthday Party's
Prayers on Fire
, The Creatures'
Boomerang
, a plethora of Pogues records, and an Italian pressing of Nino Rota's soundtrack to Fellini's
8 1/2
.
All in all, I bought about 50 records and only dropped a little over $200 -- meaning I bought plenty of those records for under 500 yen ($5)! And this was after sadly finding my regular downtown haunts picked over pretty thoroughly. But I discovered a place where I cleaned up, at a fraction of the cost of the Shibuya and Shinjuku shops. Sorry, I'm not telling where!
I do, however, want to pimp this really small but lovingly cared for record shop in
Shimokitazawa
, where I picked up my Tom Waits
Swordfishtrombones
and Sun Ra record: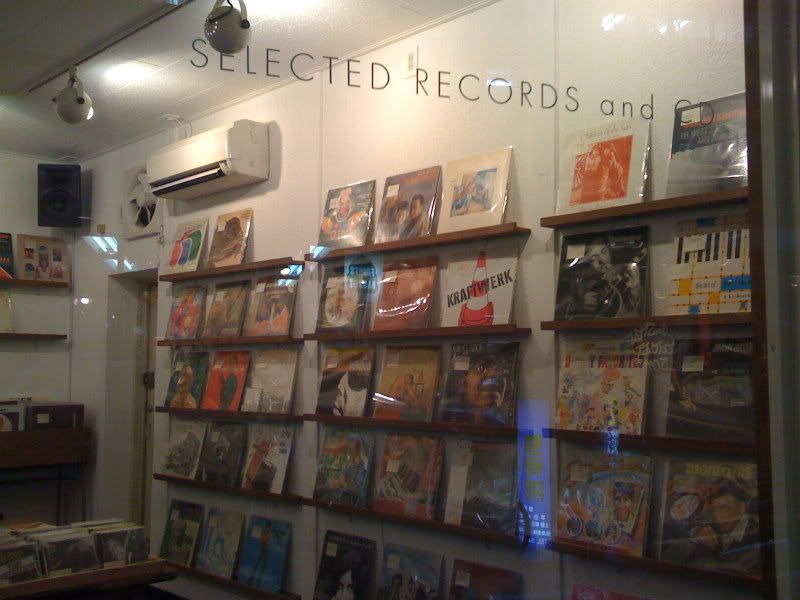 2) Fashion report
Japan, land of
Lolitas
,
Fruits
, and people dressed as anime characters, can get a little overwhelming. What are the real people wearing?
The three biggest things I noticed this time around:
-- Weaves. OMG, they were everywhere!
-- Tights. Specifically, day-glo, bright/deep jewel tone, or patterned tights with knee high (and often hooker-esqe) boots and those infernal and unwilling-to-die formal shorts. I am not into high-heeled boots, and I will NOT wear formal shorts, but I did snatch up plenty of bright tights on
Takeshita-dori
.
--
Russian-style furry hats
. I think 90 percent of the female population under 40 in Japan owns something that could be placed in this category. And hey, I wanted mine! But while I loved the look on Japanese women, I just didn't feel like I could pull off the volume. So, I compromised:
But no matter what the trend, the classics still endure...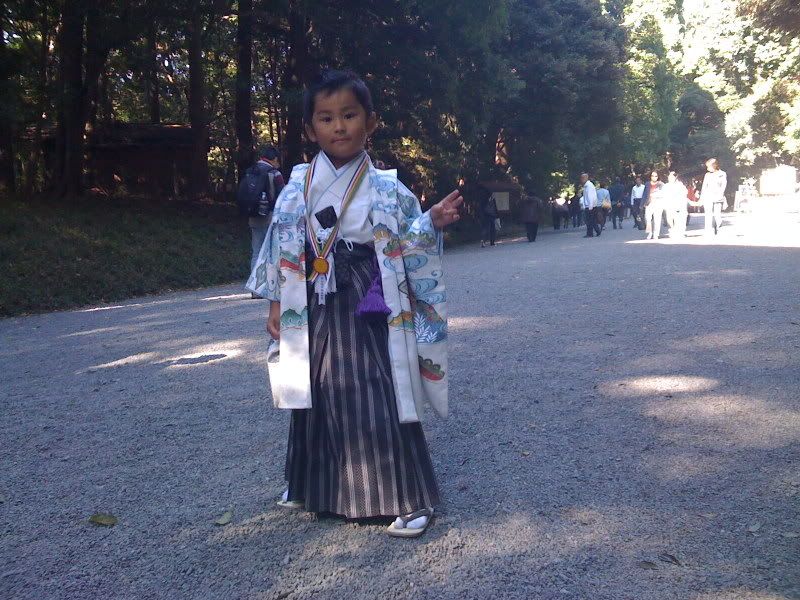 3) Drink trends
Always
killer food
in Japan, and delicious Japanese Coca-Cola (I believe sweetened with stevia), but many drinks have lacked in days past. Not so this trip.
Coffee in the late 90s and early 00s commonly used to be served already sweetened and creamed; you had to order "American kohii" to get an unadorned cuppa. But since Starbucks crashed the scene a few years ago, coffee is gaining prominence, and getting better every time I visit.
This was an "American kohii" I ordered in an independent cafe in
Asakusa
. What I got was an Americano. Needless to say, I was pleasantly surprised. Beautiful!
And another thing: in 2004, you couldn't get a good glass of whiskey to save your life. And while there were plenty of swank bars, the nice ones were prohibitively expensive and the cheap ones were...atmospherically challenged. But just a couple of weeks ago, in Osaka, I went to a daytime cafe/nighttime whiskey bar chain called Pronto, where I had a glass of 12 year-old McCallan for $6. They also had quite a few other high quality bourbons and scotches for around $6-8 a glass. Very reasonable.
My friends and I also happened upon a bar in Kichijoji called Funny Fly, where we were treated to more reasonably priced, medium to high-end whiskey in a tiny, dark, smoky, jazz-laden slip of a space.
We also got the fancy ice cube treatment I've been
hearing so much about
: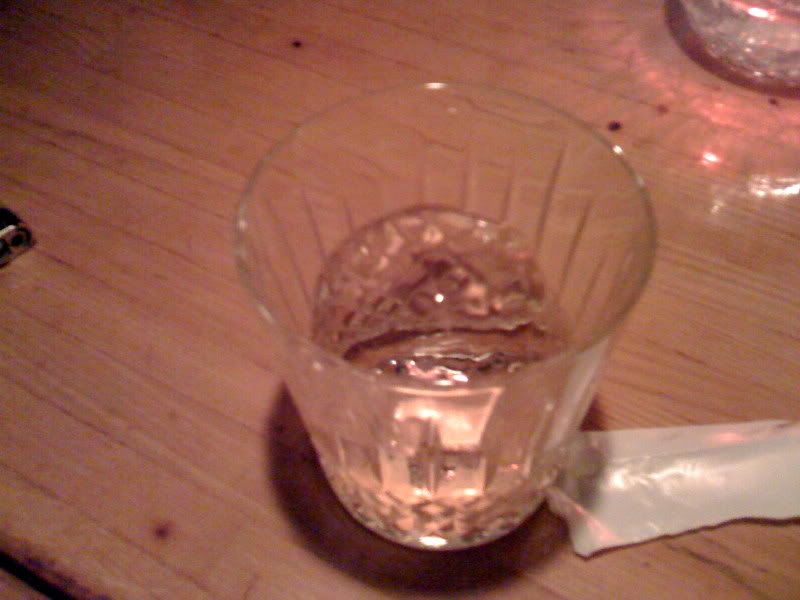 Apparently, there are swank places that actually hand-carve their ice cubes into the oversized faceted ball shape you see above, but here's a tip: I found trays that make these cool ice cubes all over the 100 yen shops. Must pick one up next time.
4) Social dynamics
Japan is changing. Slowly, painfully, for better or for worse -- but it is changing.
It shocked me that I saw a significant amount of obese Japanese. Not overweight, but obese. Chalk it up to all that great cheap whiskey and delcious ramen, as well as a country where fast food is becoming a mainstay and portions are getting bigger.
I was also shocked to see rampant hand-holding. This practice, that Trevor and I engage in like it's going out of style, made Japanese we know uncomfortable just a few years ago. But this time in Japan, I even saw a middle-aged salaryman and housewife couple holding hands! Awww,
labu labu
.
The dog-as-accessory seems to be gaining as a practice too. There were so many little dogs being paraded around Tokyo, with their little dog outfits. Little dog outfit shops were taking up space in every corner of the city.
One can, however, take this too far: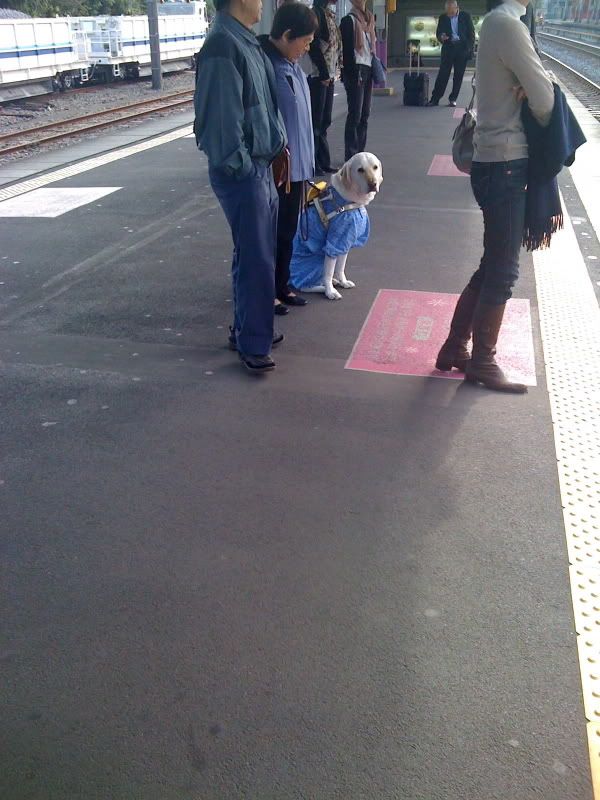 This is a
big
dog. Little dogs are bred to suffer the indignities of wearing tiny hats, sweatshirts, and leg warmers; big, strapping, working dogs like this one should not be dressed up like clowns. Look into his eyes -- he wants me to save him.
Last but not least, no post about Japan and its awesomeness would be complete without a bit on the Japanese toilet. My love of the Japanese toilet is
well-documented
. But while I have extolled the virtues of the Japanese toilet for some time, I haven't shown what makes it so wonderful until now. Courtesy of the Narita International Airport, here is the Japanese toilet, in English!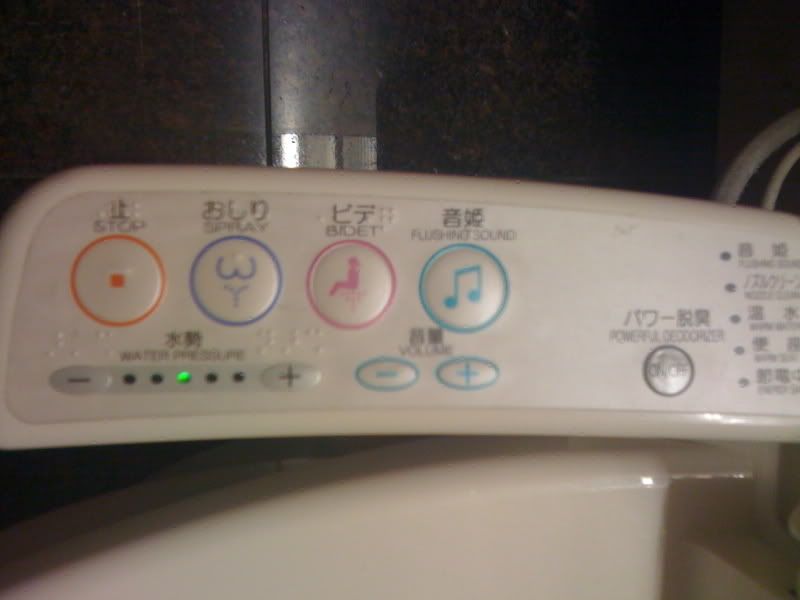 Labels: booze, dogs, fashion, Japan, Scotch, sexy toilets, vacation all I ever wanted, vinyl, wickety-wack