So...Japan.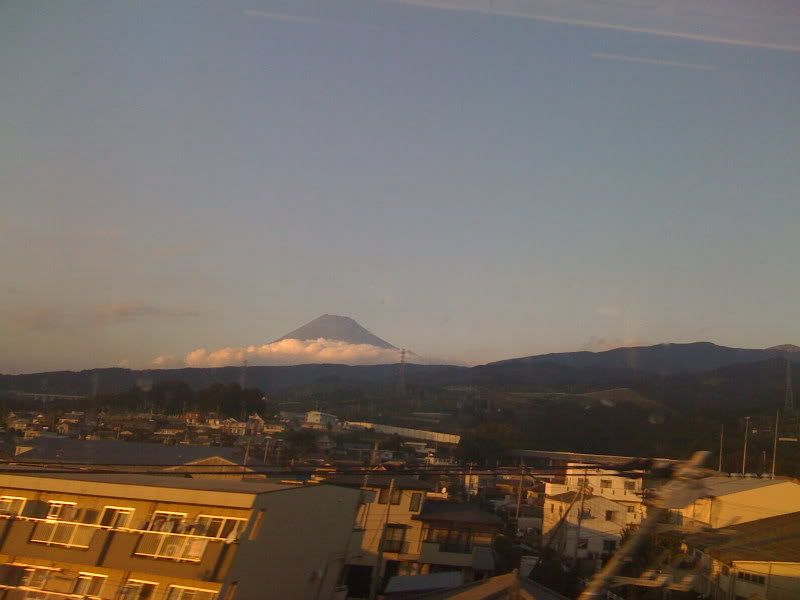 (Fujisan and sprawl from the Osaka to Tokyo
shinkansen
)
It was another successful trip, full of fantastic food, good friends (thanks Hiroko and Satoru!), orgies of vinyl shopping, and wacky done the Japan way.
You know, I realized as I was uploading my photos that I didn't take very many. I think this is definitely because I've documented much of "my" Japan
in the past
. But more so, I've been there quite a few times already, and it never seems to change. And I know this sounds a little
doucheoisie
of me, but I'm rarely shocked or awed anymore by the the lights and noise and wackiness and beauty that is Japan.
I am, however, totally enamored of the food. The food in Japan never disappoints, and as my language and reading skills get a little better each time, I end up at places that are better and better.
I know I've been getting all food blog on your asses lately, and if you don't care for that, apologies. But Japan is the mecca for deliciousness done in a million different ways. I thought I'd highlight my favorite food adventures, and then post a bit later about the other things that draw me back to Japan, again and again.
My highlights...
1) The best ramen I have ever had -- "modern-style" red-miso ramen with pork and garlic, at Hakata Ippudo in one of my favorite places to visit in Japan,
Kichijoji
.
Before:
After: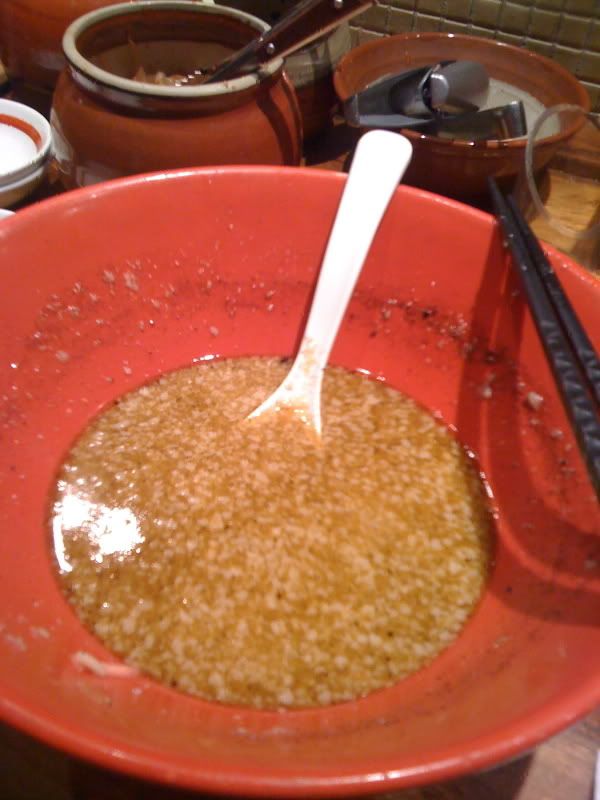 This place offered unlimited fresh ground sesame and pickled chili bean sprouts for your soup, as well as cloves of raw garlic that you could crush into your ramen. And yes, those are both garlic flecks and fat globules in that broth. And yes, it was AMAZING.
There's apparently one
in New York
. Hopefully the West Coast is on their radar!
2) Organic salad bar and steamed vegetables at
Noukano Daidokoro
, in the town Trevor and I lived in for a spell and still love to visit,
Kunitachi
.
The presentation was gorgeous:
It was also a gorgeous space, with low tables on tatami, and Western-style rough hewn tables on polished dark brown floors that overlooked the tree-lined main street. The hallways were constructed of shelve-filled walls housing growing plants that were served in the restaurant.
We also had full access to their free organic salad bar. If you know Japan, you know how difficult it can be to get the amount of greenery Westerners are used to. This salad bar was phenomenal, with perfect veggies you placed into a martini-style glass and dipped into housemade mushroom salt or olive oil. And I had something I had never had before, salt green -- a succulent with a distinctive salty taste:
3) Batteriffic goodness in Osaka.
Took a side trip to Osaka this time around, via the
Tokaido bullet train
-- by far the most pleasant train travel I have ever experienced (except for the leg in the smoking car -- good god!) for ease, comfort, speed, and scenery.
Osaka is a nice place, with nicer folks than Tokyo, but in a lot of ways it seems that once you've seen Tokyo, you've pretty much seen every metropolitan area on Honshu.
Oh, but the food! Osaka is the official birthplace of two of my favorite Japanese fast foods that incorporate batter,
okonomiyaki
and
takoyaki
.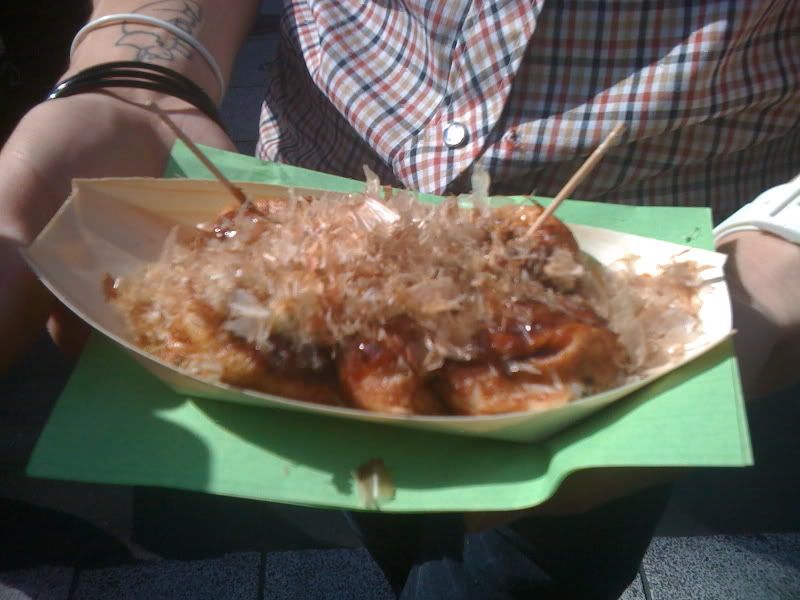 Oh lawd is the takoyaki in Osaka good. My mouth is still slightly burned from scarfing down molten octopus goodness.
4) Japanese bread and pastry shops.
Ah, the Japanese breadshop. Strangely, it is often what I miss most about Japan. This is probably because I usually stay away from white bread in the States, forgoing it for more healthful options. Not so in Nihon.
Japanese rolls and pastries are an art form -- light, fluffy, consistent in size and shape, golden brown and never burnt, the epitome of what white flour can become that shames anything I've ever seen in the States. Sugar is used sparingly, and many doughs are often sweetened with stevia -- cutting the calories of each lovely roll, bun, and danish. And at any given train station or grocery you will find at least one bread purveyor, smelling sweetly of butter and goodness, with more donuts, rolls, danishes, or meat/cheese-filled goodies than you can shake a stick at. Coupled with a glass of cream-like Japanese milk (a glass of which I had at Mister Donut last week that should definitely merit a mention on this list) it is heavenly.
I might just kill for a "milk soft" roll from Danish style Little Mermaid in
Kashiwa
right now.
One particular shop in Tokyo station had something I'd never seen before. This is part of what makes Japan great:
5) All of the delicate kohada (shad) and briny, creamy uni (sea urchin) that I could eat.
Love these two, and unfortunately one is seasonal in the States while the other can be nasty in the wrong Japanese joint. Mmmm, I was lucky to get my fill this time around of these two bits of yumminess.
6) And of course, things are never the same around Japan without mutant fruit.
Those grapes are like plums! What you can't see in this photo are the Asian pears the size of mini watermelons. Proper.
More Japan-ness to come in the next day or two!
Labels: doucheoisie, glorious eating, Japan, vacation all I ever wanted