My good friend
John
gave me and the hubby the full collection of the excellent Japanese anime,
Death Note
, in Japanese with English subtitles. I haven't read the manga, but the anime is so well-done -- I'm addicted! These little gems are beautifully rendered, classic cat and mouse game vignettes, punctuated with the Japanese obsession with oddball, preternaturally intelligent, ennui-inflicted teenagers and crazy ancient gods.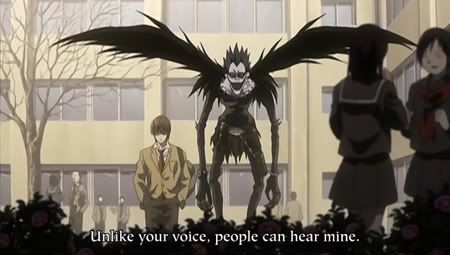 And of course, there are the requisite ubiquitous
J-pop
anthems by bands with names like
Maximum the Hormone
. Righteous!
Check out the trailers on
the official website
, see some bits of English dubbed episodes on
Adult Swim
, or you know, get it how you can. Highly recommended!