Aww yeah, this is the best thing I've seen all day.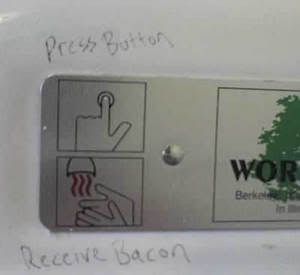 Sigh
. If only. Coupled with my love for nacho cheese I'd be that much closer to becoming
Human Bender
.
In keeping with the theme, I read that someone in Japan is
leaving 10,000 yen notes
(about $80 US) in public restrooms across the country. The only caveat? "One per person."
Only in Japan. I bet it's happening too. People are just so rule-abiding and trusting there that often Japanese just don't bother with the checks and balances that are de rigeur in the West. I was once admitted to an exclusive fan club meet and greet/soundcheck for a band without ever having to show the special ticket required for access, even when entering the barricaded waiting area. Meanwhile, hundreds of rabid regular old ticket holding fans (some crying!) waited, ever honest, outside the barricade. Wild.
For the curious, I did have a
golden ticket
, honest. It was just in transit, and I swear I thought I would be stopped so I could explain and maybe get in later when the ticket actually arrived.
Anyway, to wrap up all this talk of dirty business -- while I love both Joy Division and collecting vinyl as much as the next nutjob, the spending of
over $1500 US for a Joy Division 7"
must regrettably be filed under something else you find in a lavatory.
NP: The collaboration between American metal band
Sunn O)))
and Japanese noise band
Boris
,
Altar
. Currently,
Sinking Belle
.
Trevor picked this up on limited edition vinyl whilst we were holidaying in Santa Cruz. Not what I expected. Dreamy yet also solid and earthy -- tactile even -- and beautifully textured. This is metal I could get used to.
Labels: bacon, dirty business, Futurama, Japan, Joy Division, metal, vinyl