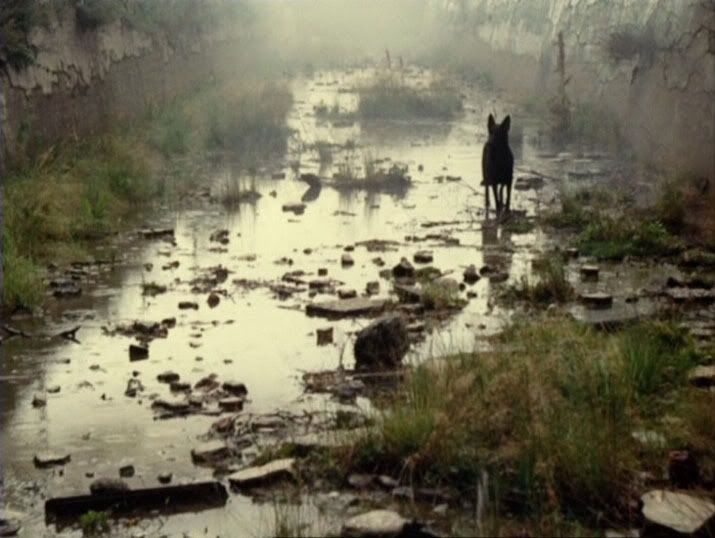 Three words.
Russian. Fantastik.
Cinema
.
In August at the
Pacific Film Archive
theater in Berkeley, some of my favorite things in the world will collide. I can barely contain myself about
Stalker
and
Solaris
. I own
Solaris
on DVD, but I cannot wait to see it on the big screen.
Long ago, my sweetheart wrote a series of poetry after director Andrei Tarkovsky's
Ivan's Childhood
and
Solaris
; the latter series he called
Tide and Mermera
. I still think it is some of his most beautiful poetry. Spoken, it is like little pearls in your mouth.
Begin with a telescoping, a
house from memory.
Long drive through color.

...

Paper flickers.
A sound of leaves,
a bowl full of rain.
The pomegranates have no taste.
It was a house built from memory. A house full
of rain. His blue leather
glistens, drenched.

...

There were gaps in the text.
They kept their secrets.
As an ear and a dwarf, but
a hole in the arm, exposed.
Sublime.
Speaking of evocative writing, I am now fully engrossed in
Massimo Carlotto
's novel
Death's Dark Abyss
. I've been hooked on his work since devouring
The Goodbye Kiss
and all of its casual brutality and unapologetic injustice. Carlotto is Italian noir at its finest.
NP:
Art Brut
, '
Emily Kane
'
Labels: Andrei Tarkovsky, cinema, PFA, Russian, Trevor's poetry