I have been a very busy girl on ebay.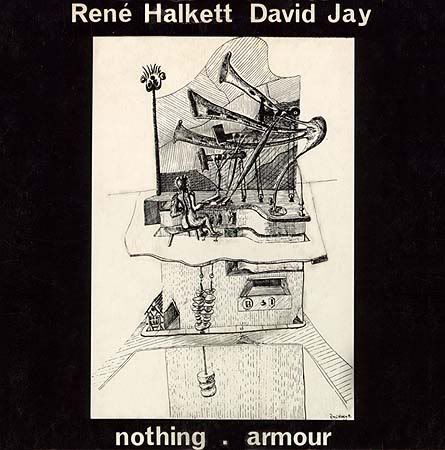 I just picked up David J 's hard to find collaboration with Weimar Bauhaus poet and artist Rene Halkett,
Nothing/Armour
, for a fraction of what I have seen this 7" go for at auction. How this happened, I do not know.
I also found David's collaboration with Alan Moore, the
V for Vendetta
EP, on vinyl, which I have been looking for forever and thought I would never get for less than $150. Very very wrong, I was, and very very pleasantly surprised.
I'm still sort of in shock, having thought I would never get my hands on these rare records together for less than a plane ticket from Cali to NYC. And never EVER for less than a good sushi dinner date. Unbelievable.
Ah,
V for Vendetta
. Brilliant graphic novel, brilliant EP. Most know a film was made, but many do not know that David
recently reissued
V for Vendetta
on CD, with a new song, "Song From the Kitty Kat Keller," as well as a previously unreleased demo for the centerpiece song,
"This Vicious Cabaret"
.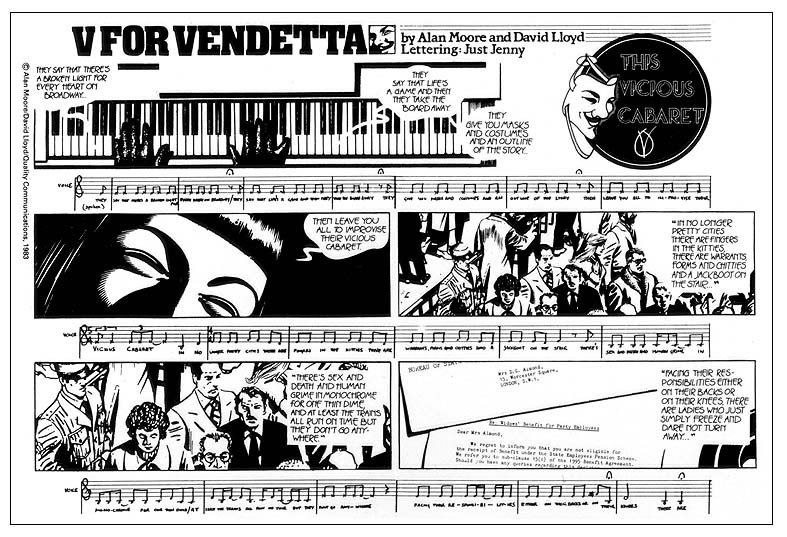 They say that there's a broken light for every heart on Broadway.
They say that life's a game, then they take the board away.
They give you masks and costumes and an outline of the story
Then leave you all to improvise their vicious cabaret...
For those of you unfamiliar, this is the song in
V for Vendetta
that sums up the story to a point and gives us V's view of the fascist England of the novel. The music David created that brought "This Vicious Cabaret" to life, and David's fervent delivery of Moore's lyrics, is in a word, flawless. If I didn't know how negatively Moore felt about the film, I would still be shocked that this song was left out of the film version. So, even if you aren't able to pick up the original vinyl version with the illustrated lyrics insert (both absolutely MINT as the day they were pressed/printed -- squee!) then be sure to pick up David's reissue on CD. Well worth it even to simply have this song.
Oh, and I almost forgot -- in my rabid ebaying in the last week or so, I also stumbled upon a flexidisc version of David and Alex Green's (Jazz Butcher) collaboration with Moore, The Sinister Ducks. In 1983, they released a now quite rare 7" --
"March of the Sinister Ducks"
; the flexidisc of the song, however, I did not know existed. It was inserted into a comic book released in 1988,
Critters
#23.
I do not have this 7", and I do not dare dream I will find it, ever. It is the third in the rare trinity of David J-related vinyl this J-otaku has been searching high and low for. So, at this juncture, the score was now 2 down, and 7" of improbability to go. With the discovery of this comic/flexidisc, I was excited at the prospect of a fakeout on my collection.
Some dude had apparently been listing this comic for some time on ebay ("F-VF condition with only light and barely noticeable cover wear, and the flexidisc is detached but in excellent condition, and carefully bagged separately") and when I found it I lamented the listing price of $24.99 ("Buy it Now" for $40!!!) and decided, no way. Then, duh! -- a simple goog of the comic steered me over to an online comic site where I picked it up, NM and flexidisc
attached
, for $5!
Fakeout, schmakeout. I say, there's room for that elusive 7" should it fall into my hands, but for me I am now officially 3 of 3. Yeah!