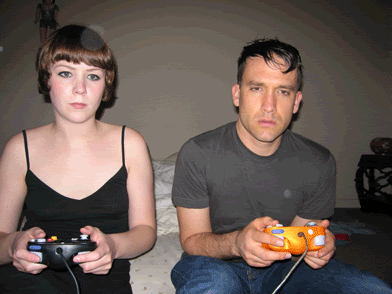 My god. Just listened to 5 tracks from the new
Xiu Xiu
album due out September 12,
The Air Force
. Oh my god. These songs are fucking fantastic. I can't say it much better than what is said in the excellent
press release
from
Kill Rock Stars
. I can definitely give props to some of their points though.
Xiu Xiu is lush but cold, and like a sample symphony, full of earnestness and angst yet really really visceral. The songs sigh while they're burning you with a cigarette. There's humanity to it, a humanity that isn't airbrushed or dolled up or waiting for the right guy. Jamie Stewart's vocals are so palpable -- cutting, spooky, or even goofy at some times, and absolutely tragic at others. But altogether the symphonic sound, crescendos, and then quietude, coupled with his startling vocals makes the songs curl up inside you.
Xiu Xiu did a cover of All We Ever Wanted by Bauhaus that I posted a while back. The best cover of Bauhaus I've heard, no joke. Xiu Xiu took this beloved, simple song full of wistfulness and saudade from a band that burned hard and fast for 4 albums and is almost untouchable in their innovation from that time, and they made it even more powerful in a different way, while keeping the core elements. The song is more insistent. Xiu Xiu made that song their own. Not many bands can say that for a cover.
Plus, they are from the
South Bay
, yo. And another Bay Area musician, Greg Saunier, from another fabulous band,
Deerhoof
, is producing the album.
I can't stop listening to the tracks. This album sounds more accessible than past albums to me, which isn't a bad thing, since some of their work is almost too intense for casual listening. I could play this all day long. It really sounds brilliant.
NP:
Bishop, CA
from Xiu Xiu's
The Air Force