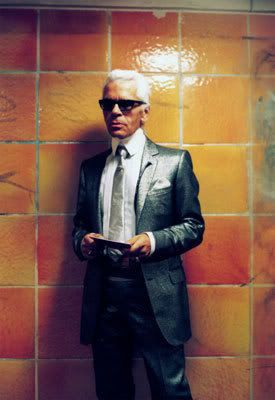 In the old days there was luxury but no market. Today there is all market and no luxury.
-- Karl Lagerfeld
Excellent
interview with Karl Lagerfeld
in the March 2008 issue of
Prestige Hong Kong
.
He is so entertaining -- not many people can be so arrogant and yet so charming. How can Karl say he is "too superficial" to be bothered to comment on certain things, that he "reads 10 books at a time" and hates charity, and that he will only go places via private jet because he "cannot go on airlines because people stare at me, you have to be touched by people" and be taken seriously? Is it because we are obsessed with -- and love to hate -- arrogance, vanity, wealth, celebrity, and the social hierarchy we all create with those things?
Sure. But I think people listen to him mostly because he's honest, and extremely articulate when he's not just pared down to misanthropic soundbites, and that is respectable. He is outrageous, but if more people were as honest as I think he is, our world would be something else entirely. Our species might die out, but at least we'd all be owning it.
This interview gave me a newfound respect for Lagerfeld. He's made it in a world where you are only the sum of what other people think of you. And whether or not his cutting persona and misanthropy are a result of being in the fashion field, whether or not in the end one thinks he's just a superficial and mean bitch, some of the things he says are refreshing to read, because I really do think he means what he says. That honesty in his line of work is rare.
Haha, but speaking of misanthropic soundbites, you must check out
this bit
summarizing from the article what Karl can really do without in this life.
Fat people
.
Children
.
The Smell of Cooking
.
Love
. He's certainly a piece of work.
Labels: fashion, Karl Lagerfeld, owning it, respect