Oy, here it comes. Obligatory Harry Potter post.
Please be aware my links and narrative may spoil the new book for you
, though I will attempt to contain my narrative as much as possible out of respect for your reading enjoyment.
I will admit that even though I love to read, I've never cracked one of the books. Not interested after watching the first film. Love the films, I do. And a very large part of my love for those films is the magnificent
Alan Rickman
's portrayal of
Severus Snape
.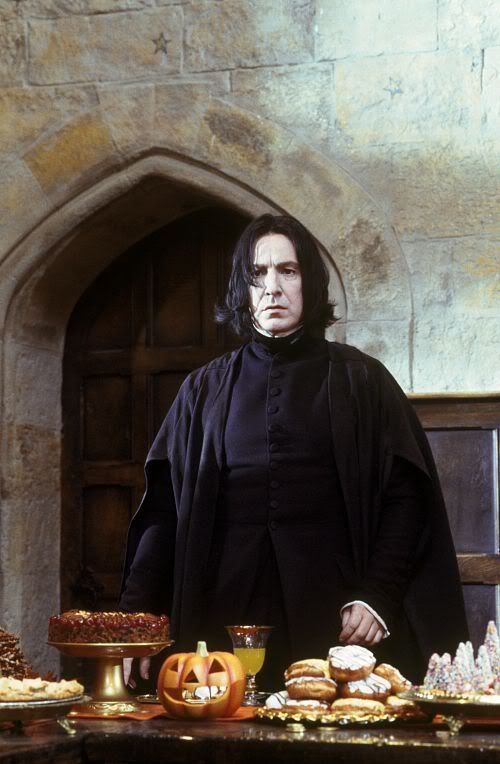 Yes, if you know me, you've got me -- it does have a lot to do with the villianous black nehru jacket and flowing black priest-like cloaks (phwoar!), the gothic trappings, the uptightness, the jet-black hair, the measured and stern voice...*swoon*
Ah, and don't forget his riding crop...erm, I mean
wand
...erm, no, I mean...how about that wand?
*ahem* anyway...
My first brush with Alan Rickman was as one of the two actors in the excellent film
Closet Land
; since then I've really enjoyed his hysterical performance as Metatron in Kevin Smith's
Dogma
and of course his very important bit as Severus Snape. Very similar characters, in a way, I know, but he's also quite versatile. Who can forget the evil Hans in
Die Hard
and "classic fool" Harry in
Love, Actually
?
So, of course, being completely enthralled with Alan Rickman's performance and knowing the importance that Snape plays in the last two books, I have been all over the internets gathering the last story because I just couldn't wait.
And you know what? I was heartbroken at the injustice of the end.
I realize Harry is ultimately an innocent and deserves a happy ending. But a less than innocent but long-suffering -- and most importantly, repentant and romantic -- character such as Snape, highly dedicated and a master of his craft, but unloved and under constant, almost lifetime stress for a greater good, deserved much more than what JKR dished out. I'm definitely not the only one who feels this way -- there's an excellent essay about this travesty of justice
here
.
It could be said that there was a certain romance to Snape's end. Maybe I'm a different kind of romantic, but if that is what was intended, it lacked fundamental pieces that make such things bittersweet and thus romantic. Boo, I say -- I just didn't get it.
Labels: Alan Rickman, Harry Potter, righteous indignation, Severus Snape, stern men in black frocks reprimanding me in the potions room, wands