I forgot to mention some of my best spoils procured whilst in Nihon.
At an antiques fair in Saitama, I found this gorgeous little piece of black resin goodness:
I've loved vintage jewelry since I was in high school and began prowling the antique shops and thrift stores for rhinestones, bakelite, and ivory, but lately I've been really getting into black resin jewelry, and it is in no small way the fault of
Favor
in Oakland. They make their own beads from vintage molds, and the results are marvelous. The hubby sealed my fate with a black resin bead necklace from Favor last year, so, you understand, I had to have this pretty little thing for my collection as well.
In my last post I numbered some of my most fun experiences while in Nihon, and of course it goes without saying that I went record shopping and that is
always
at the top of my list. While I didn't pick up much Japanese vinyl this time around, I did come away with some very cool stuff.
My fave vinyl, all nothing super special to anyone but me (spread out alongside my stack o' other records bought this time around):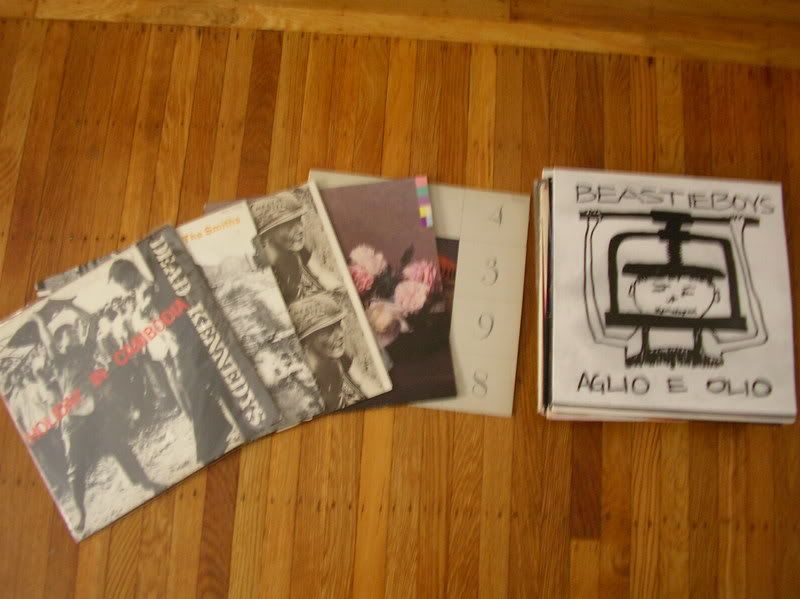 That '
Holiday in Cambodia
' 12-inch is my prize. It is a French copy, released through Cherry Red in the UK. I've never even seen one over here. The Smiths 'Heaven Knows I'm Miserable Now' single is
Rough Trade
Japan, and the
Meat is Murder
vinyl is Rough Trade UK, Rough81. I also picked up my favorite New Order album,
Power, Corruption, and Lies
, on
Factory
, Fact75. Sadly, the New Order single 'Thieves Like Us' isn't Factory, but Columbia Records Japan. Still cool though.
The stack to the right includes the Beastie Boys EP on top (for 100 yen!) and a bunch of other stuff -- mostly UK but also Japanese –- ranging from Juana Molina and Sean Lennon to KMFDM, My Bloody Valentine, Gary Numan, and Wu-Tang. Only found one Bauhaus 12-inch I was in need of this time around, but I did pick up 2 NIN vinyl (at the urging of the NIN fans about) because they are supposedly very hard to find.
And of course, all of the records are as mint as the day they were brought into this world. I LOVE buying vinyl in Japan!
Speaking of Bauhaus – a very frank little birdie flying within the Peter Murphy galaxy shared a bit of information with me about the new Bauhaus album that has been rumored since last summer, but of which there has been not one public peep despite the introduction of two new songs last year.
My source told me the album is finished and has been for some time, but that Peter isn't getting along with "the other three" and "the other three" aren't getting along with Peter (actually, "hate" was the word that was used, but I doubt it is that strong and was just a figure of speech) so the album is not likely to be released until things get patched up. Source also said the album is held up because, "Daniel Ash is an asshole."
Now, that part may be mere
opinion
, but it is an opinion that nonetheless made me chuckle when I heard it, if just from the memory of a few friends' first-hand impressions (though certainly many opinions and observations of Peter are not much better).
So, Bauhaus fans got a tour supporting NIN in 2006, where they rolled out two new songs -- as well as heavily chronicled fights between superdivas Peter and Daniel
onstage
in the UK -- and then nothing. Then David J starts doing his own projects like a madman, all of the "other three" start DJing up a storm, and Peter starts getting his groove on with Sarah Fimm and there's talk of him working on new material. Still no word about Bauhaus. Then I got a little tidbit in a convo with another source close to Bauhaus at the San Francisco Cabaret Oscuro show in February, where I was told the album is done, it is in one band member's opinion "the best work they've ever done," and that they are just waiting on releasing it because they are to put it out themselves. Then, nothing. Again. Now, finally, some concrete reasons for the awkward silence. And you know, it all does make sense. I think most suspected it too, so the confirmation that it is truly squabble-squabble at the root is not surprising, but still
really
disappointing.
I guess all the fans can do now is wait -- until Bauhaus can stand each other enough to be all up in each other's faces again, and/or the take from 2005 and 2006 dries up. Sigh. But, perpetual cynic-optimist that I am, I also hold out hope that the impetus may instead truly be the music, the performance, the audience, and the realization that when they check the egos at the door, together they can be brilliant.
We'll see.
Labels: Bauhaus, David J, Japan, kickass things in our hood, vintage, vinyl