Some things I'm obsessing about...
Tim Noble and Sue Webster
's most
recent exhibition
at the
Freud Museum
. I am absolutely in love with
Black Narcissus
.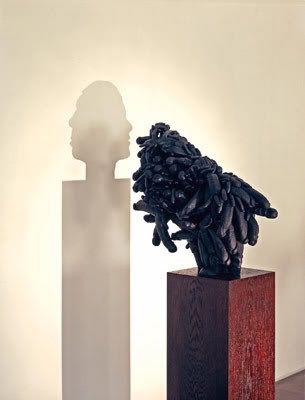 __
Apparently it has been out for a while, but I just heard that Johnny Depp has bought rights to and at this point
will be producing
one of my favorite books of late,
The People's Act of Love
. I also hear he may take a role, along with Russell Crowe. Not what I imagined in my mind, but I have faith Johnny!
Speaking of film, am I the only one in the world who really liked
Spiderman 3
? I loved it! Seriously worth the ticket price for emo Peter Parker, for real.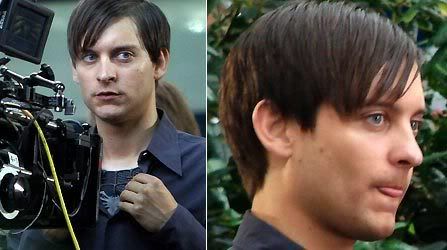 Also worth the ticket price -- finding out from the previews that there are actually films I want to see in the coming months, and getting to eat a bucket of popcorn. Yay for
Bourne Ultimatum
,
Harry Potter
, and the
new Julie Taymor
, and yay for movie theater butter.
__
Did you know there is a blog
dedicated to cupcakes
?
__
This is for my girl T. Look at these sweet things I bought.
Also see
here
and
here
for more "it's been hotter than hell why are you buying boots" madness.
__
I've been thinking a lot about green waste – specifically when I get ice cream at
Ici
and it's in a compostable corn-based bowl with a compostable corn-based spoon, and on my walk home when I'm throwing the bowl and the spoon into someone's
green waste container
when I'm finished, instead of into the trash.
Corn-based compostable and biodegradable dishes and utensils. Wow. Sure,
there are problems
, as with anything. But humans are not going to stop using plastic until it is too late, and that is an insurmountable problem. We need solutions, and waiting around for something perfect is going to destroy us. Corn bioplastic is a great great thing for urban areas with green waste/composting facilities, and it may encourage more cities to introduce green waste management to their garbage portfolio. The answer to getting this going is
time
-- like when
Oakland outlawed styrofoam
(BTW, yay
Oil Independent Oakland 2020
!) -- and
government subsidies
for communities to get green waste processing facilities and for the plastic manufacturers so they can convert their factories, in order to avoid our delicate capitalist economy crashing down around us.
Labels: art, boots, cinema, green waste, Spiderman