I'm baaaaa-aaack! Flew out at 4 pm on Thursday from Narita Airport, and arrived in San Francisco at 9 am the same day. Trevor and I powered through 35 hours of wakeyness and then slept for 15 hours. It was worth it, because I feel great today.
So Japan was awesome, as per usual, and as per usual the most awesome things are best described visually rather than by me rambling on, so without further ado -- the best of my trip:
1. Getting out of the spectacular but sometimes
overwhelming lights and noise and people
that is Tokyo and hiking
Mt. Takao
(our second time!)
2. The food! Eating out is a religion in Japan, and I've never had anything there that wasn't superb (well, except
Lotteria
). Here we feasted on mackerel and seaweed salad with bonito flakes (and copious amounts of sake and beer) at an izakaya in
Shimokitazawa
, where our friends Hiroko and Satoru surprised Trevor with a
ginormous birthday sundae
3. And, speaking of friends, it was fun to meet up with folks who had never been to Japan before and go see NIN. Also met some really wonderful people who I know I will see next time I'm there! Still not a huge NIN fan, but the show was crazy fun, and since my ticket was purchased by a fan club member, I met Trent Reznor at the meet and greet before the show. Being an English speaker, I got a chance to speak with him at length. Top notch guy.
(I was just out of arms reach of Trent during the show, and am just out of the frame to the right. There were times I literally couldn't move, it was so packed in the pit. I realized halfway through the concert I would enjoy it more if I got out if the pit, so I slithered, literally -- sweaty skin to sweaty skin -- to about the 15th row.)
4. Visited a couple new areas near the little inn we usually stay at in
Noda
. One was the
Omiya
area of Saitama City, where we found one of the things that makes Japan's urban areas so charming -- a little shrine in an alley between two buildings.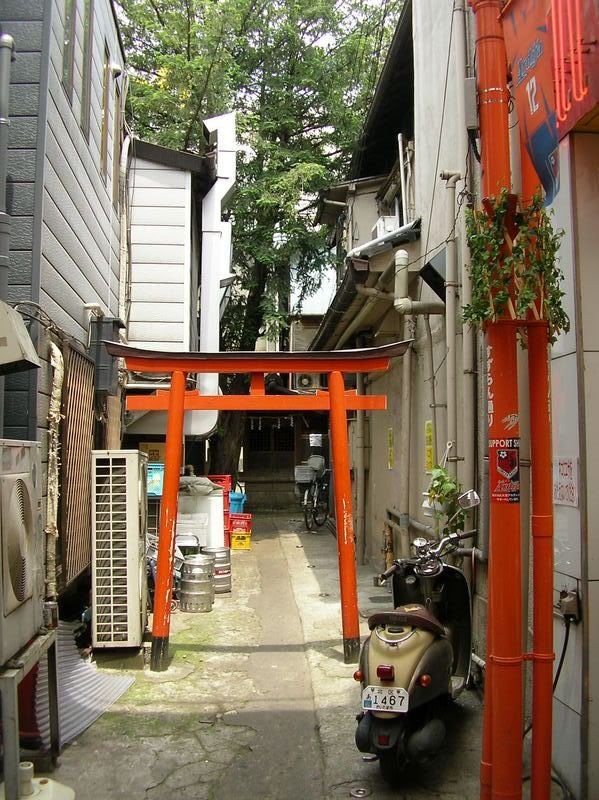 5. Took in an antique faire (kimonos for 1000 yen!) in the impressive
Saitama Super Arena
housed the "future city" area of Saitama, Saitama Shintoshin -- so named because of the
open architecture
and, as our friend Hiroko put it, the way it makes you feel "more free" than the stifling and oppressive crush of Tokyo. It really is a beautiful city that looks well-planned, with gorgeous architecture and artistic
urban greenery
. Here, the Saitama Super Arena:
6. Met Dean Rostohar, the founder of
Bujinkan Dojo Croatia
who was staying in the same inn as us and training with Trevor. What an amazing man. As a Croatian police officer, he fought in the
Bosnian War
, and lost a leg in the process. The personal stories he told us of the brutalities of the war were horrifying, yet were also infused with testaments to the power of humanity. He completely embodied that "warrior spirit" that Bujinkan promotes. It was an honor to simply sit on the patio at our inn and talk with him.
--
There is so much more to relate, but the pics would crash your browser! More pics can be found on
"my"space
. But suffice to say -- Japan, despite your sometimes freaky weirdness, institutionalized sexism and xenophobia, and consumer madness, you once again have stolen my heart.
Labels: glorious eating, Japan, respect, Trent Reznor