In my childhood, I preferred the darkness
Odd Nerdrum
Just picked up the newest book of the collected works of Norwegian painter Odd Nerdrum,
Themes
.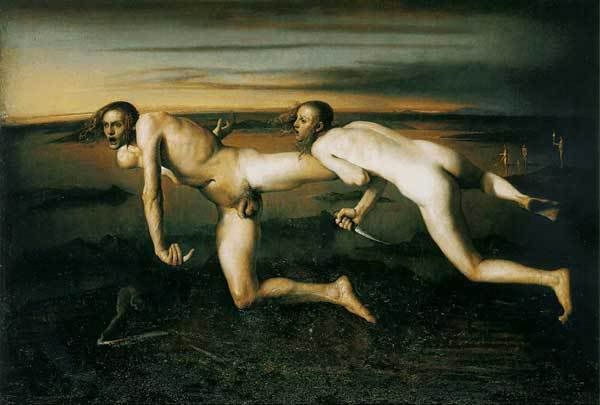 My god, his work is frightening. His paintings stir something visceral inside that is familiar but also uncomfortable in its menace. I haven't been this drawn to, yet freaked out by, painted images for some time.
Woman with Child
in particular is haunting me. Apologies, I can't find a pic, but trust me, go to the bookstore, find this book, and look at this painting and you will understand. And while you're at it, check out the final series,
Void
, in the conclusion of the book. I actually want to sleep with the lights on.
I think humans are trained to think of graphic violence or sexual depravity when they think of something visually threatening. I don't see many overt sexual overtones in most of Nerdrum's work, but yes, there is a subtle violence present, a promise of
something
that raises the hackles. There is the slight flicker of the foreboding, recognized by our primitive monkey brain -- a strangely curled set of fingers, the shadowy wisps that trail across a face, a filmy presence in an odd shadow, the unidentifiable expression on a person's face as they are embracing another -- that make these images sear themselves into your memory as not quite right.
I like too that in Nerdrum's work the body and its natural functions -- erections, defecation, even aging -- are used to jolt us out of our tidy complacency. His blighted landscapes also do much to increase the overall disquiet. This unease doesn't stop at episodic pieces; there are quite a few portraits in
Themes
, and truly, his portraits are some of the most difficult of his work for their raw and direct humanity.
But at the core, the essence, Nerdrum's paintings violate with one final, traumatic twinge: that of almost unbearable beauty.
Nerdrum is so very good -- I feel like his subjects have every dark taint on their souls painted on their flesh, and if they could speak you wouldn't want to hear what was being said. To accomplish this with mere paint and cloth, amazing.
Labels: art